Show Posts
This section allows you to view all posts made by this member. Note that you can only see posts made in areas you currently have access to.
Messages - Saxby Clemens II
91
« on: October 15, 2008, 07:39:58 AM »
I've heard very good things about Hillman College.
92
« on: October 14, 2008, 10:50:32 PM »
They're the worst!

I would like at least one night's sleep where I don't wake up four or five times.
93
« on: October 14, 2008, 10:08:29 PM »
So, we watched "Roger & Me" in my reputation management class tonight, as background for developing a crisis communications plan for General Motors, and I completely forgot about the crazy rabbit woman, who's cuddling a bunny in one scene and then attempting to beat it over the head in the next.

I'm pretty sure I'm going to have nightmares.
94
« on: October 14, 2008, 06:56:37 PM »
White Detroit Tigers ringer t
Blue Express cargo shorts
Grey 2Xist boxer briefs
Blue RL flops

It's my goal to one day own some sort of something or other, and allow all my employees to wear black.



95
« on: October 13, 2008, 10:14:10 PM »
This thread never used to be so arousing.

Lacoste/Prada/freeballing gym shorts...oh my!

Grey U-Mich 2005 Rose Bowl t-shirt
Burgundy 2Xist boxer briefs
Blue AE gym shorts

96
« on: October 13, 2008, 08:19:10 PM »
Or, maybe you're just a big drunk, because they usually do the anthem before the game even starts.

OMG, I didn't upper-case anthem.

::joins Piggy in O(b)samas cave::
97
« on: October 13, 2008, 08:10:17 PM »
I leaned to "please touch up your roots regularly"



Roots are OK if they're not grown-out midway down your head.

::coughs::



<3's Sax.

:::wears hat to hide roots:::



Roots are okay if you're not shooting a music video!

Or if you're doing this?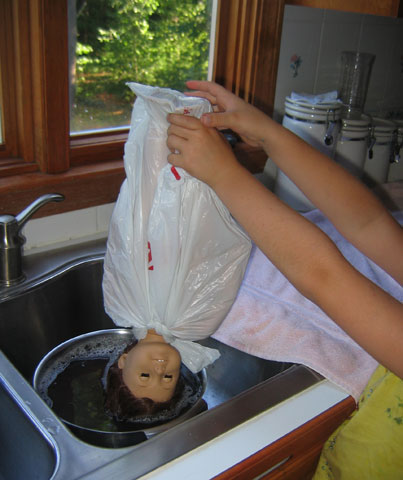 Google image searches are so much fun!
98
« on: October 13, 2008, 08:07:41 PM »
Obama is also not patriotic, he and his wife have both espoused hatred towards the US during many speeches. He's refused to wear the flag pinned on his jacket many times after being requested to do so by others. He doesn't put his hand over his heart when he does the pledge of allegiance.



And I usually go take a piss and buy another beer when they do the Anthem at a baseball game. So what?

OMG, PIGGY IS BILL AYERS!!!!
99
« on: October 13, 2008, 04:32:50 PM »
Of course they would sell their soul to the devil to get elected. Obama's gone back on almost everything that differentiated him from anyone else running for president and it's been terribly disappointing. As for Kool Aid drinking, I would sooner vote for Britney Spears than John McCain and I am only slightly more enthusiastic about Obama than Hillary Clinton.

There is a difference, however, in flip-flopping over public campaign financing and aligning yourself with a group of people that hold views dangerously divergent from your own on an issue that directly affects the lives of millions of Americans. Your dad is probably a good example of how most undecided voters feel about homosexuality. It's difficult to go from that perspective to voting for someone who willingly associates with homophobes, was my point. If only because it feeds into a far-right stereotype that only those who are enamored with Sarah Palin can embrace.

I don't think the Ayers issue or the gay business is going to impact the election. It was just stupid to say who McCain associates with is no big deal when one seemingly considers who Obama associates with to be one.
100
« on: October 13, 2008, 03:06:55 PM »
I don't think most Americans agree with homophobia. Whether they have issues with the changes acceptance/tolerance require, I doubt most voters who aren't already solidly in the McCain camp would find blatant homophobia acceptable.

Regardless, I don't think that it's something John McCain finds personally acceptable, which makes his association with intolerant individuals both hypocritical and disturbingly opportunistic.