1
« on: October 14, 2008, 07:01:33 PM »

A prominent surrogate for John McCain on Thursday raised Barack Obama's admitted cocaine use as a teenager and said the Illinois senator should speak candidly about it to the American people. Speaking to Dennis Miller, a comedian and conservative radio talk show host, former Oklahoma Gov. Frank Keating said Obama should be more forthright about his background and what he called his "very extreme" record. "He ought to admit, 'You know, I've got to be honest with you. I was a guy of the street. I was way to the left. I used cocaine. I voted liberally, but I'm back at the center,'" Keating, a co-chair of McCain's campaign, said Obama should tell voters. "I mean, I understand the big picture of America. But he hasn't done that."


McCain Co-Chair Calls Obama "A Guy Of The Street," Raises Drug Use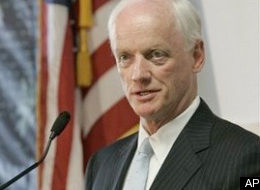 Here it is the whole statement:
MILLER: It's the most liberal, let's just say that. We're talking to Frank Keating, former Oklahoma Governor, John McCain supporter. Frank, let's just say, it's the most liberal. The thing that bothers me the most about all this with Barack Obama is not the -- I know he's the most liberal guy. You know, I know he's gotten this close to the White House and I know most people don't realize he's probably the most liberal senator we have. The thing that bothers me the most is I recognize the obfuscation and the smoke and mirrors as Clinton-esque. When I hear him reduce Ayers to "this is a guy who lives in my neighborhood" or Rev. Wright, "I was there 500 times and never saw him." The acts themselves don't bother me as he's starting to treat me like an idiot too when he's blowing this smoke my way. He ought to just come clean and say, "listen, I came up through Chicago, you make some errors there." I'd almost be able to absolve it more easily then.
http://big.assets.huffingtonpost.com/frankkeating.mp4